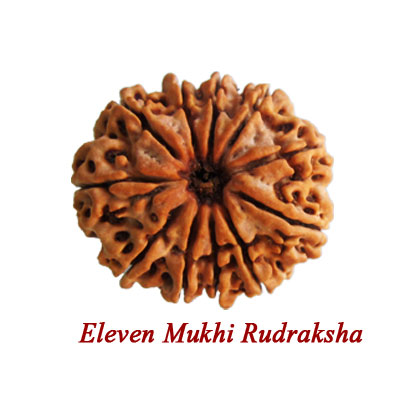 original nepal Eleven mukhi rudraksha ( 11 mukhi rudraksha ) description
Eleven mukhi rudraksha is also known as Ekadasa rudra Swaroopa"- It represents Lord Shri Hanuman. Just as Shri Hanumanji it offers oratorical skills, tactical negotiation skills, self confidence, intelligence, physical and mental power, as he is known to the whole world. Persons sporting this rudraksha will find meditation more purposeful, devotion towards God is a real experience. It has the unique power to control the entire body and mind causing them to work in tandem. Wearing this rudraksha is a boon, for it brings good luck, a luck that is not confined to riches alone but blesses the person with leadership qualities, finding a good spouse and has children who are obedient and worthy. This rudraksha has the power of Gods, offers perpetual happiness, long life - purposeful life. It protects the wearer from untimely death and helps in maintaining robust health, wards diseases. 11 mukhi rudraksha is especially good for those who wish to advance their interests in business or in their profession.
original nepal Eleven mukhi rudraksha ( 11 mukhi rudraksha ) benefits
Eleven mukhi Rudraksha is a very powerful rudraksha. All powers and qualities of ek mukhi rudraksha is found in this rudraksha. This rudraksha gives courage and strength and character to the wearer. It is excellent for the health of the wearer. It provides excellent relief to various ailments. It is very difficult to obtain an original and genuine 11 mukhi Rudraksha. There are many udraksha in the market selling for very low prices. this Rudraksha is very precious. it is Rudraksha is a very significant Rudraksha. The eleven faces of this Rudraksha represent the eleven forms of Rudra (Lord Shiva). There are eleven forms of Rudra. This Rudraksha combines the power of all the eleven forms of Rudra. It is said all the forms of Rudra reside inside this Rudraksha. Hence this Rudraksha is regarded to be a very powerful and precious Rudraksha.